Paper and Fire (The Great Library #2)
by Rachel Caine
Official Site | Goodreads  | Twitter | Facebook | Tumblr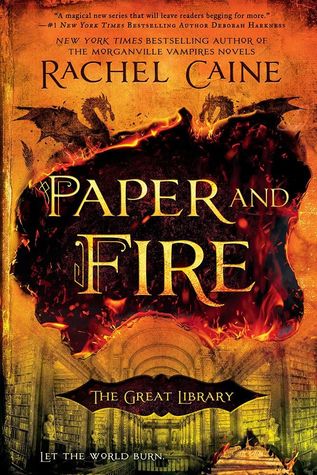 Format: Kindle/ ARC
Published:  July 5th 2016 by NAL
Genre: YA lit, Fantasy
Amazon | Kindle | Book Depository | B&N
"With an iron fist, The Great Library controls the knowledge of the world, ruthlessly stamping out all rebellion, forbidding the personal ownership of books in the name of the greater good.

Jess Brightwell has survived his introduction to the sinister, seductive world of the Library, but serving in its army is nothing like he envisioned. His life and the lives of those he cares for have been altered forever. His best friend is lost, and Morgan, the girl he loves, is locked away in the Iron Tower and doomed to a life apart.

Embarking on a mission to save one of their own, Jess and his band of allies make one wrong move and suddenly find themselves hunted by the Library's deadly automata and forced to flee Alexandria, all the way to London.

But Jess's home isn't safe anymore. The Welsh army is coming, London is burning, and soon, Jess must choose between his friends, his family, or the Library willing to sacrifice anything and anyone in the search for ultimate control…" –goodreads
*May contain spoilers from Ink and Bone (The Great Library #1)*
Review:
"This is the graveyard where they buried our future." (Loc. 4026)
An unbelievably great sequel to Ink and Bone, I loved Paper and Fire even more!
The conspiracy continues as we delve deeper into the Big Brother control of The Great Library. Treachery, secrets, loyalties and danger all play a part in this thrilling adventure. With a growing interest in the mythical Black Archives, Jess uncovers critical information that may bring a full on war. Still grieving his friend, Thomas, Jess and his crew are more determined than ever to get justice not just for those he's lost, but for the discarded knowledge The Library wants to keep quiet.
"But hope was a cruel, jagged thing, all spikes and razors that churned and cut deep In his guts. Hope was a great deal like fear." (Loc. 57)
My favorite aspect of this book was the development of the automatons, as it provided more of a thrill factor that gave the story a great pace. The automatons are becoming more of a threat, as just like the personal journals, they become the eyes of The Library and put Jess in more danger. Who can they trust as they uncover deep secrets and treacherous lies? Set in the future but kept in the past, If you enjoyed Ink and Bone, then Paper and Fire will rock your world!
"The Artifex sees us as chess pieces he can move as he wishes, and eventually, he'll knock us off the board one by one, if not all at once. Are we just waiting to be killed?" (Loc. 2482)
---
Galley provided by Berkley Publishing Group
*Quotes are from uncorrected advanced galleys and may change before going to press. Please refer to the final printed book for official quotes.